lady_sarai
What have I been up to lately? I'm glad you asked! I made a fanmix! ...It's way too long, but I had, um. 94 songs in the playlist before I cut it down to this, so keep that in mind?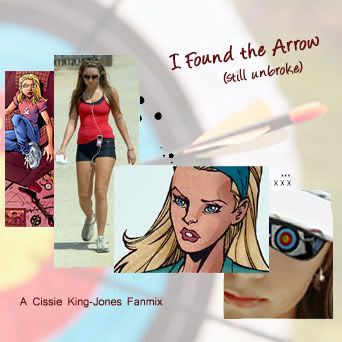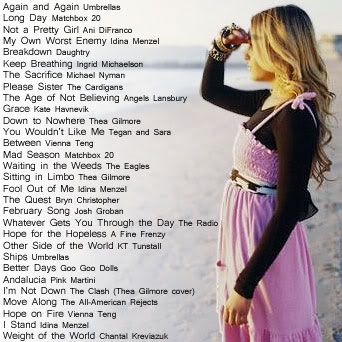 I Found the Arrow, Still Unbroke; A Cissie King-Jones Fanmix
1. Again and Again | Umbrellas
I'm trying my best.
I won't quit.
I'm trying not to disappoint.
Again and again.
Here we go just to balance you out.
I'm on fire, and this is about how our song came on and we sang along.
So sing along.

The pictures are all falling down.
The ground started shaking without you around.
So where are you? I'm so lost.
Cissie spent her entire life doing exactly what her mother told her to, exactly what she needed to do in order to be the best daughter, best hero, best at everything that she could be. And then when she was fourteen, Social Services terminated her mother's parental rights and put Cissie in a boarding school.
2. Long Day | Matchbox 20
I'm sorry 'bout the attitude
I need to give when I'm with you
But no one else would take this shit from me
And I'm so
Terrified of no one else but me
I'm here all the time
I won't go away
It's me, yeah I can't get myself to go away
It's me, and I can't get myself to go away
Oh God I shouldn't feel this way

Reach down your hand in your pocket
Pull out some hope for me
It's been a long day, always ain't that right
And no Lord your hand won't stop it
Just keep you trembling
It's been a long day, always ain't that right
After being taken from her mother, Cissie went through a Very Angry phase, in which she blamed everything on her mother and set about trying to do things to prove she was better off without her. She was really just lost, scared and alone. (This song also works for later, when Cissie starts making mistakes and starts blaming herself for everything.)
3. Not a Pretty Girl | Ani DiFranco
and I have earned my disillusionment
I have been working all of my life
and I am a patriot
I have been fighting the good fight
and what if there are no damsels in distress
what if I knew that and I called your bluff?
don't you think every kitten figures out how to get down
whether or not you ever show up
Cissie is a hero. Her father died when she was five, and she grew up a crazy but strong single mother who raised her to be a strong woman, to be a hero and to rescue herself. Even with everything that's happened, Cissie is a strong, competent girl.
4. My Own Worst Enemy | Idina Menzel
In the roses
In the spring
I remember
There was a time
I wasn't afraid of anything
But with the lilacs
And the rain
One day you went away
I remember
I forgot everything…
So why do I always have to be
My worst my own worst enemy
You say I walk on water
You say I walk on the moon
But it's never enough
(no it's never enough no it's never enough)
You say I'm only human
It's all in my head
But it's never enough
(no it's never enough no it's never enough)
One day I'll find
My alibi
Cissie grew up under intense pressure to be the best at everything she did; second best was just not good enough. She rebelled against that after being removed from her mother, but she's internalized that pressure and holds herself to a high standard in everything she does. Which means when she makes a mistake, she beats herself up about it.
5. Breakdown | Daughtry
Well, I'm sitting alone thinking about it all over coffee.
And still crowdin' my space are the things you still hold against me.
You cannot save me.

Well, it's not the time to breakdown.
It's not the time to breakdown.
It's not the time to break up this love,
Keep it together now.
It's not the time to break.
Another song for Cissie trying to hold herself together, both as she's first on her own figuring out how to be Arrowette without her mother,
and
after her therapist is killed and she loses all self-control, once she's made the decision to quit heroing.
6. Keep Breathing | Ingrid Michaelson
The storm is coming but I don't mind
People are dying, I close my blinds
All that I know is I'm breathing now
I want to change the world
Instead I sleep
I want to believe in more than you and me
But all that I know is I'm breathing
All I can do is keep breathing
Marcy was her surrogate mother-figure and she was brutally murdered; Cissie saw it, and tracked down, tortured and tried to kill her murderers. When Superboy snaps her out of it, she's left catatonic because it's all just too much to handle. All she can do is breathe.
7. The Sacrifice | Michael Nyman
Instrumental
Cissie knows there are consequences for her actions, especially when you call yourself a hero. She tried to kill two men. She knows what she has to do; she has to give up her friends, her family, her life as she knows it.
8. Please Sister | The Cardigans
But she said
You gave away what you never really had
And now your purse is empty I can see why you're sad

Please sister, help me come on do what you should
Please give me something I'm not doing so good
I'm gone, done wrong is there nothing you can say
Please sister help me
Can you make me feel okay
The problem with giving up Arrowette is that she's never known anything else. What do you do when the thing you've spent your entire life working for is taken from you? Especially when it's your own fault it's gone.
9. The Age of Not Believing | Angela Lansbury
When you set aside your childhood heroes
And your dreams are lost up on a shelf
You're at the age of not believing
And worst of all you doubt yourself
Those lyrics say it all. Cissie's lost and blaming herself and out of hope. What now?
10. Grace | Kate Havnevik
Come what may
I won't fade away
But I know I might change

Nothing comes easily
Fill this empty space
Nothing is like it was
Turn my grief to grace

Nothing comes easily
Where do I begin?
Nothing can bring me peace
I've lost everything
Giving up heroing was the right thing to do, but it's the hardest thing she's ever done. Especially when no one really supports her decision to quit.
11. Down to Nowhere | Thea Gilmore
So I am going down to nowhere
With the drop-outs and the bums
I'm a soldier of the vacuum
When the darkness comes
I'm a vaudeville comedian
In a theater of bones
And it's a laugh a minute
When nowhere is your home
Rebuilding a life is difficult, especially when you have no idea how to even start.
12. You Wouldn't Like Me | Tegan and Sara
Well I can't stop talking for fear of listening to unwelcome sound
And you haven't called me in weeks and honestly it's bringing me down
I feel like I wouldn't like me if I met me
I feel like you wouldn't like me if you met me
And don't you worry there's still time
Cissie carries a lot of self-hate and blame; she can't forgive herself for what she did. Why should anyone else?
13. Between | Vienna Teng
I have a prophecy
Threatening to spill into words
This growing certainty
Of Over
There once was a time I was sure of the bond
When my hands and my tongue and my thoughts were enough
We are the same but our lives move along
And the third one between replaces what once was love
She made her choice and she stands by it, but it's hard to watch her friends--her family--move on without her. She feels replaced by Empress in Young Justice, and she was never a Titan; they had Speedy for that. Do her friends still need her at all?
14. Mad Season | Matchbox 20
Well, I feel stupid but it's something that comes and goes
And I've been changin', I think it's funny how no one knows
We don't talk about, the little things that we do without
When that whole mad season comes around

So why ya gotta stand there
Looking like the answer now?
It seems to me, you'd come around
I need you now
Another song about the distance that grows between Cissie and her former teammates. She needs her friends, but feels like they've moved on without her.
15. Waiting in the Weeds | The Eagles
I've been stumbling through some dark places
Now I'm following the plow
I know I've fallen out of your good graces
It's alright now

And I've been waiting in the weeds
Waiting for the summer rain to fall upon the
Wild birds scattering the seeds
Answering the calling of the tide's eternal tune
The phases of the moon
The chambers of the heart
The egg and dart of small gray
Spiders spinning in the dark
In spite of all the times the web is torn apart

And I've been waiting in the weeds
Waiting for the time to come around again and
Hope is floating on the breeze
Carrying my soul high up above the ground and
I've been keeping to myself
Knowing that the seasons are slowly changing
Cissie watches her friends form the Teen Titans and invite a blonde teenager to be the team archer, and it's not her. Young Justice is dead and she will never be a Titan.
16. Sitting in Limbo | Thea Gilmore
I don't know where life will lead me
But I know where I've been
I can't say what life will show me
But I know what I've seen
Tried my hand at love and friendship
But all that is passed and gone
You know this girl is moving on

Sitting here in limbo waiting for the tide to flow
Oh, I've been sitting here in limbo knowing that I have to go, yeah
They've been putting up resistance
But I know that my faith will lead me on
When she first quit, Cissie still spent time with her friends and went on crazy world-saving adventures, even though she said she didn't want to. Eventually, they stop including her. It's time to start moving on.
17. Fool Out of Me | Idina Menzel
Excuse me for saying
What I know down deep is my sin
But maybe I'll fool everybody into thinking
I know just what I am doing

All that I don't know
Paralyzes me
But somehow I keep going on
Just settling for this mediocrity
And I wonder if God is trying to make a fool out of me
Cissie may look like she has it all together--she's got an Olympic gold, she's been on a popular tv show, she's a good student and is decently popular... but it's all basically an act. She just does what she has to to make it through every day.
18. February Song | Josh Groban
Morning is waking up
And sometimes it's more than just enough
When all that you need to love
Is in front of your eyes
It's in front of your eyes

And I never want to let you down
Forgive me if I slip away
Sometimes it's hard to find the ground
Cause I keep on falling as I try to get away
From this crazy world
Sometimes Cissie feels lost and alone, and terribly forgotten. She misses having a family and a purpose in her life.
19. The Quest | Bryn Christopher
What I'm gonna live for
What I'm gonna die for
Who you gonna fight for
I can't answer that

All my life it is
It is all my love
All my life it is
I know it is a life to live lately
From above I hear
I hear the sound of them sinkin'
I feel numb, I'm alive
I know I'm getting closer
Cissie needs to figure out what she wants for herself, and how she can make the most of the life she's trying to build.
20. Whatever Gets You Through Today | The Radio
Sometime yesterday,
There was another way
Of dreaming....
But there's another way
You don't have to be a hero....
God, it's not easy
There's a lot to keep you holding
On forever....
Whatever gets you through today
Whatever gets you through today
Another song for figuring out how to life her life without being Arrowette or a member of Young Justice.
21. Hope For The Hopeless | A Fine Frenzy
Cold in a summer breeze
Yeah, you're shivering
On your bended knee
Still, when you're heart is sore
And the heavens pour
Like a willow bending with the storm, you'll make it

Running against the wind
Playing the cards you get
Something is bound to give

There's hope for the hopeless
There's hope for the hopeless
There's hope
Finding hope, starting to find a purpose for her life.
22. Other Side of the World | KT Tunstall
The fire fades away
Most of everyday
Is full of tired excuses
But it's too hard to say
I wish it were simple
But we give up easily
You're close enough to see that
You're the other side of the world to me

Can you help me?
Can you let me go
And can you still love me
When you can't see me anymore
So many of Cissie's issues stem from her perceived abandonment by her friends after they formed a new team without her; she needs them, but she also needs to find a way to make peace with the way things have gone.
23. Ships | Umbrellas
Just like ships, we float through each other's lives
Through the waters of beauty and grace
We will one day dock at the same port
And give rest to our weary legs
There is a light placed up in the sky
Like the stained glass, time slows down
I wish I could sleep, I wish I could dream
I had to include this song if only because of the atmosphere. It's a Cissie song. Her mistakes, her hopes, her relationships. She's just muddling through.
24. Better Days | Goo Goo Dolls
And you ask me what I want this year
And I try to make this kind and clear
Just a chance that maybe we'll find better days
Cause I don't need boxes wrapped in strings
And designer love and empty things
Just a chance that maybe we'll find better days
All Cissie wants is a future where she can make a difference and have people close to her again. Underneath all her self-doubt and blame and anger, she's an optimist, and that's what she will always be.
25. Andalucia | Pink Martini
Instrumental
There's hope here, and faith and love, and an inner strength Cissie just needs to find again.
26. I'm Not Down | The Clash (Thea Gilmore cover)
And I have lived that kind of day
When none of your sorrows will go away
It goes down and down and hit the floor
Down and down and down some more
Depression
But I know there'll be some way
When I can swing everything back my way
Like skyscrapers rising up
Floor by floor, I'm not giving up
I've been beat up, I've been thrown out
but I'm not down, I'm not down
I've been shown up, but I've grown up
And I'm not down, I'm not down
The thing about Cissie is that she'll always bury her pain and suffering and rise above it. She's a strong young woman with a lot of willpower, even when she's miserable.
27. Move Along | All-American Rejects
When all you got to keep is strong
Move along, move along like I know you do
And even when your hope is gone
Move along, move along just to make it through
Move along
No matter what is thrown her way, she'll keep moving. She's tougher than she seems.
28. Hope on Fire | Vienna Teng
Ooh you're gonna make your mark this time
Ooh you're gonna set your hope on fire

Gotta leave gotta bleed
You've gotta stop lying still
'cause this is no kind of life
You don't need guarantees
One way or another, Cissie is going to make a difference in the world.
29. I Stand | Idina Menzel
When you ask me, who I am:
What is my vision? And do I have a plan?
Where is my strength? Have I nothing to say?
I hear the words in my head, but I push them away.

'Cause I stand for the power to change,
I live for the perfect day.
I love till it hurts like crazy,
I hope for a hero to save me.
I stand for the strange and lonely,
I believe there's a better place.
I don't know if the sky is heaven,
But I pray anyway.

And I don't know
What tomorrow brings
The road less traveled
Will it set us free?
Cause we are taking it slow,
These tiny legacies.
I don't try and change the world;
But what will you make of me?
This is Cissie. She does her best without putting on a mask, and she desperately wants that to be enough.
30. Weight of the World | Chantal Kreviazuk
I don't know why I was so afraid... all the time
Memories seemed to bother me.. my whole life
I used to carry the weight of the world
And now all I wanna do is spread my wings and fly
I used to carry the weight of the world
And now all I wanna do is spread my wings and fly
I don't know why I was so ashamed
Such a waste of time
And I don't know who I was trying to be
All those lies
I used to carry the weight of the world
And now all I wanna do is spread my wings and fly
Someday she'll figure it out. Someday she'll let go of her guilt and her fear and she'll be wholly happy again.
Download .zip here!
Individual songs
here
!
Fanmix title taken from "The Arrow and the Song" by Henry Wadsworth Longfellow:
I shot an arrow into the air,
It fell to earth, I knew not where;
For, so swiftly it flew, the sight
Could not follow it in its flight.

I breathed a song into the air,
It fell to earth, I knew not where;
For who has sight so keen and strong,
That it can follow the flight of song?

Long, long afterward, in an oak
I found the arrow, still unbroke;
And the song, from beginning to end,
I found again in the heart of a friend.